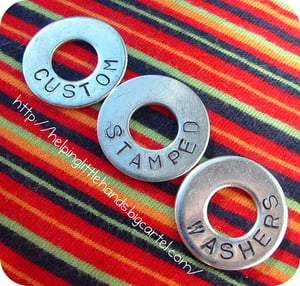 $

3.75
Sets of four custom stamped washers. These washers are great for making washer necklaces or key chains. More ideas for how to use them (or how to make your own) can be found on my blog here. You will need to use the "contact" button or email me at polly.helping.little.hands@gmail.com to tell me what you want your washers to say. You can choose any combination of large or small washers.
Washers stamped on both sides will count as 2 washers.
I will do my best to make sure your washers are free of defects, have clear impressions, and are my best work. Lettering may not be "perfectly" spaced or straight...that is part of the charm of hand-stamped products.
The washers shown in the picture have had permanent marker added to increase the visability of the stamps. You will need to do this yourself. Instructions for adding the marker highlights are on my blog here.
Washers are regular hardware store flat zinc washers. Large washers are "3/8 inch" washers which means the full distance across is 1 inch. The small washers are "1/4 inch" washers which means they measure about 3/4 inch across. The stamped letters are 1/8 inch.
If you want to stamp your own washers, you can order the stamping sets from Harbor Freight for $5 plus $7 shipping.
Shipping on the first set is $0.75. Each additional set shipped at the same time is $0.50 shipping. If you need yours shipped internationally, you will need to contact me to find out how much shipping will be.